It's really a pleasure to share with you the latest edition of the official Elektronic Force Podcast, which has its edition number 141 and features mix that promises much, great techno and sweet tech house bombs included, this is the perfect way to start or end your day with the finest techno music, Q'Hey the japanesse underground techno artist hit Marco Bailey's podcast with a great selection of sick techno music... Dont miss it!
Biography of Q'hey:

Q'hey (Masaya Kyuhei) started DJing in 1989, and since then, has been one of the few key individuals of Japan's club scene (along with Takkyu Ishino, Ken Ishii, Fumiya Tanaka) . With determination, focus, hard work, and with the support of loyal fans, he is one of Tokyo's Techno milestones. From club events to massive outdoor music festivals, Q'hey is the artist who always delivers.

In 1995, Q'hey was spending most of his time producing tracks, and introducing his music to the Asian and European continents. At around the same time, Tokyo's Underground Techno party was created, REBOOT at Maniac Love, Tokyo. With a solid line-up of DJs, Q'hey as the main organizer/DJ of the monthly party "REBOOT", has been going strong for more than 11 years. Needless to say, the remarkable music quality plus the powerful fan base, is the fuel for this great everlasting party.

In 1998, after a few releases from several prominent labels, he started his own label "Moon Age Recordings". This was a time for more hard work and international exposure.

In the matter of months, his releases are charted on play lists of big DJs such as Sven Vath and Marco Bailey.




Up to date, he released 3 mix CDs, "Sound Republic" (KSR) "Reboot #001" (KSR) "NYSO Vol.1 DJ Q'hey" (Yenzo Music). And in 2006, he released the first album from Moon Age Recordings - Q'hey + Reboot "Electric Eye On Me". A well balanced techno album with inputs from many Japanese top artists (and Q'hey's top tracks).

Within his most recent works, Q'hey has completed some very unique projects, again delivering many superb re-mixes and productions. These were released by Pornographic Recordings, MB Elektronics, Rhythm Convert, Omega Audio among others.




In the technical field, he reviews DJ equipment for music magazines like "Sound & Recordings" and "Sound Designer". With his extensive knowledge of DJ/production equipment, he also got involved in the development of MC-505 and MC-909 for Roland, providing advice and support for Yamaha and Vestax.

Q'hey has been blessed by the opportunity to DJ in countries such as Taiwan, Hong Kong, Singapore, Belgium, Spain, Luxembourg, Germany, France, Holland and Poland.

And in between long hours in the studio, and the local gigs, he is continuing to add some more international gigs to his list.

A master of the 3 turntables / CDJ technique, a talented producer, an experienced crowd-reader, an uplifting performer, and a very great guy… Q'hey rocks!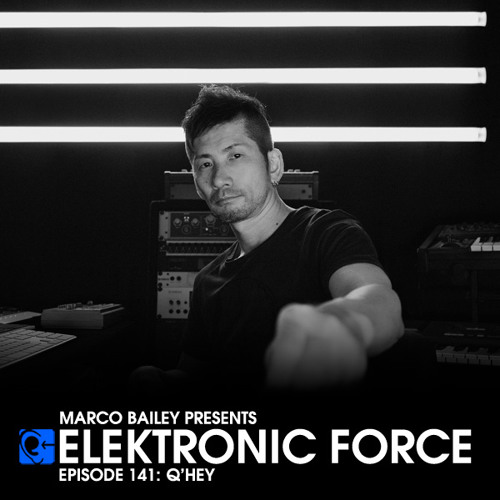 Artist:
Q'hey
Title: Elektronic Force Podcast
Genre: Techno, Tech House
Source: WEB
Type: Set
Rls date: 22.08.2013

Tracklist:
01. Q'Hey - Accord
02. Q'Hey - Jack
03. Q'Hey - Tied Up
04. Harvey McKay - Goodbye
05. Juan Sanchez - Off Grid (Roberto Capuano Remix)
06. Loco & Jam - Nero (Markantonio Remix)
07. Q'Hey - North Wind
08. Mr. Bizz - Dominance
09. Nicole Moudaber - Movin' On
10. Timmo - Never Stop (Luigi Madonna Mix)
11. Technetium - Holzig (Q'hey Remix)
12. Slam - Movement
13. Q'Hey - Apache
14. Hideo Kobayashi - Propaganda
15. Q'Hey - Cut The Clap
16. Q'Hey - North Wind (Marco Bailey Remix)
17. Q'Hey + Hideo Kobayashi - Buddyroid
18. Jeff Mills - Where Light Ends (Q'hey Second Mission Mix)
Listen & Download:
Head Picture credit: © Tadamasa Iguchi, Aoki Yusaku, Naoto Sakamoto / all rights reserved