After Lucretio and Marieu played for us in Kiev back in April, we've become somewhat obsessed with their music. The funny thing is that you might not really be into every single record they put out, but once you happen to hear them live, everything changes instantly. In case you still haven't had a chance to catch them in a club round the corner (or even if you have), we are happy to present to you the recording of one of their recent live sets. Yes, we know it's a bit skippy – in the end, who gives a damn? Given the fact that they are known as the masters of raw analogue sounds, this doesn't seem to be something unnatural…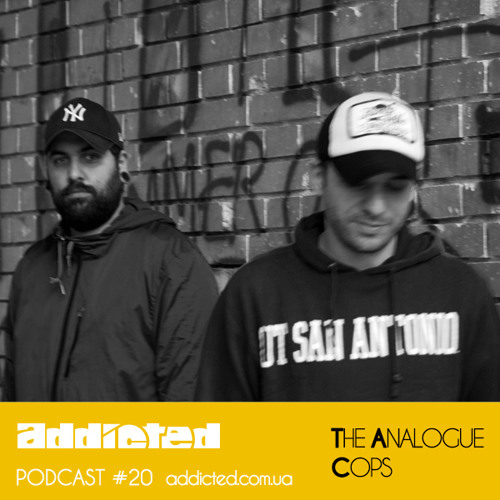 Biography of The Analogue Cops:
MARIEU (Restoration/Appointment/Livejam records/Sabotage rec.) and LUCRETIO (Mixworks / Restoration/Appointment/Livejam records/Sabotage rec./DeepMoves) a.k.a. THE ANALOGUE COPS are the founder members of the RESTORATION assault unit, one of the last independent underground labels on the planet.

They are true defenders of vinyls and the worst enemies of digital downloads; from 4 years they have been resisting in Berlin, where they had already imposed their message made of pure analogue Techno. Techno that comes from Chicago House music, from Larry Levan´s disco, from George Clinton´s funk, from Miles Davis´s jazz; in a few words, uptempo danceable R&B music.

Deeply inspired by Jeff Mills and Theo Parrish, they use their analogue sound to bring the order into the confused dancefloor of the world.

They use only hardware analogue gear in their live shows, raw and funky in the traditional Techno style. They believe that music is a form of comunication and education for all the people in the world,

Actually LUCRETIO and MARIEU are pledged in a more dub and deep house oriented project, but always deeply influenced by their passion for american music. Their productions are appreciated and played by djs such as James Pennington, Alan Oldham, dj Buzz Goree, Ame, Santiago Salazar, Steffi, Tama Sumo, Prosumer, Radioslave, Dor, Eddie Flashin´ Fowkles, Rick Wade, Pacou, Mad Max, Patrice Scott and Marcel Dettmann.

They have 12 releases out on 12" on their own label RESTORATION distributed exclusively by Diamond and Pearls Berlin. Lucretio´s track on RST006 appears now on TAMA SUMO´s Mix CD for Panorama Bar. In the spring of 2009 they started a collaboration with Steffi (OSTGUT TON / KLAKSON): the name of the project is THIRD SIDE and their full length "Nyx" E.P. (rst010) was higly acclaimed and quickly sold out.

They collaborate with MIXWORKS Detroit and Lucretio produced the first two eps on the label, including the hit track BERLIN DUB featured on Fabric Mix CD mixed by Ame.

Since september 2009 they release on the label LIVE JAM RECORDS, as ACE (together with EMG) and as APPOINTMENT (with EMG and JOHN SWING); in the summer of 2010 they founded the label APPOINTMENT together with their friends of LIVE JAM RECORDS. As APPOINTMENT they made 2 official remixes of MOODYMANN´s track "I can´t kick this feeling when it hits" that will appear on DECKS REWORKS.

In the beginning of 2010 they released the "Rathaus Neukölln" E.P. on SABOTAGE RECORDS, a record strongly played (between others) by Riccardo Villalobos.
Artist: The Analogue Cops
Tittle: Addicted Podcast #20
Source: WEB
Type: Set
Rls date: 24.07.2013
Genre: Techno
In Search...

Listen & Download: