A session with a lot of energy, deep and dark sounds that are reflected in the selection of music such as: Lucy, Surgeon, Exium, Peter Van Hoesen

,

Xhin and of course Mulero's heavy remixes. The best reference of the underground scene is here, this week's slam radio show has included one of the most original and defined techno sound in spain, Oscar Mulero...
Something about Oscar Mulero:

Already a well known name on the underground circuit among the most faithful clubbers, Oscar Mulero now started to appear in media headlines in the specialised and general press alike. Thanks to him, the DJ was now a figure taken seriously by the media who had until then viewed them as just another of the many night works. As he had done so on many previous occasions, Oscar was again opening up doors and blazing trails…

His second work was released in 1999. It was done with GROOF, an experienced producer from Madrid. The two formed the duo Quite Unusual, on the GROOF label Brainwaves. They were well received by critics and also enjoyed good sales. His first release with an international label came in 2000 on the French label Kobayashi. It was his first away match and first away victory!

That very year saw the birth of WARM UP and a couple of years later, its offspring POLE. From then on, all Oscar's efforts were focused on releasing his own material, whether home or away, on the very best techno labels of the planet, such as Coda, Pure Plastic, Tresor, Sheep, Tsunami and Main Out. That put him definitively on the world techno map. Between 2000 and 2002 he released no fewer than 9 EPs, which lead to a contract with one of the biggest dj booking agencies of the time, Dynamix Booking from Berlin, an agency that also represents some of the best techno artists of the world. From then on, Oscar was seen and heard in clubs and festivals from all over the world, more and more often.

In 2003 he released A Occhi Chiusi on the Pure Plastic label, under the name of TROLLEY ROUTE. This was a totally mental electronic work that was also easy to dance to. That album ended a cycle and confirmed his maturity as a producer.

Since then, he has continued his relentless work producing and remixing with the very best techno labels the world over, and he hasn't stopped appearing on the electronic stage everywhere. Dr. Smoke, his alter ego, gained strength during this period as a showcase of Oscar's open and eclectic vision as a music selector, leaving techno aside and moving deep into territories such as electro, dub and IDM.

During 2008 Oscar significantly expanded his work map. Visiting the Movement festival in Detroit, China and Japan, he has left his mark on almost every continent.

During 2009, his international presence included forays into countries as exotic (from a techno point of view) as China. As for studio work, that same year saw the digital release of the Trolley Route album, the making of a CD mix for the prestigious Tresor Records label and the creation of the Selección Natural collective together with Exium, Reeko and Christian Wünsch.

Following a memorable anniversary party at Fabrik, Madrid, that was a huge success with the crowds and celebrated his twenty years as a dj, we see the end of one era and the beginning of a new one. From then on he is open to the use of new technologies and new projects, such as the Pole platform, which picks up the thread from Selección Natural and gathers the best of the national techno scene under one banner.




During 2011 we saw the release of his first LP as Oscar Mulero, Grey Fades to Green. A double CD also released as a 4 vinyl set which will bear testimony to Oscar's maturity and consolidation as one of the most important electronic music producers worldwide.

On the stage side Oscar has developed a fully audiovisual experience with his "Light & Dark AV Set", tested live in some of the best festivals around.

2012 was Warm Up Records tenth anniversary, with thirty four releases to date. Last year also saw the publication of Oscar's second full length album, Black Propaganda, which means a twist in his trademark sound on behalf of a modern and dark approach to techno, and has the support of the best DJs and the media.

During 2012 PoleGroup expanded their activities and started promoting their showcases all over Spain and Europe, working side by side with artists like Regis, Lucy, Xhin, Perc or Peter Van Hoesen, to name but a few.

As a performer, his agenda has expanded in 2012 with gigs all over the planet: Asia, Oce-ania and South America.

For 2013 he's going to release the Black Propaganda remixes, where the cream of the techno scene remake his tracks. He's also going to launch Spherical Coordinates, a pro-ject with Christian Wünsch, as well as other releases for labels such as Semantica, Modu-larz, Blank or Detroit Underground.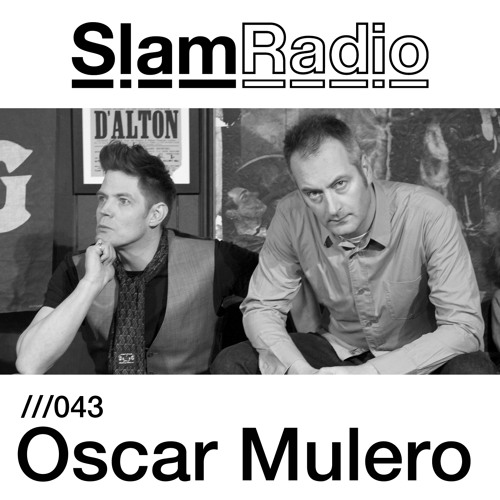 Artist: Oscar Mulero
Tittle: Slam Radio #043
Genre: Techno
Source: WEB
Rls Date: 25.07.2013
Type: Radioshow
01. Reeko - Segmento 3
02. Ducerey Ada Nexino - Guide (Exium remix)
03. Oscar Mulero - To Convince For The Untruth (Lucy remix)
04. Planetary Assault Systems - Function 4 (Lucy remix)
05. Regis - Blood Witness
06. Victor Martinez - Anything Called Dead Consumerism (Oscar Mulero remix)
07. Oscar Mulero- Disinformation (Xhin remix)
08. Darqwan - Said The Spider (Surgeon remix)
09. Shifted - Unveiled
10. Spherical Coordinates - scfls-17
11. Spherical Coordinates - scfls-12
12. Phase - Binary Opposition (Peter Van Hoesen remix)
13. Go Hiyama - Common Blank (Oscar Mulero remix)